Recalibration and compassion – an open letter to our sector
So much has been written about the current and possible future impacts of the pandemic on the arts and cultural sector in the past few months, is there anything that a consulting firm like Positive Solutions can add to the discussion?  Or is the best policy to stay quiet until the dust has settled on this extraordinary and painful period – knowing that many of our colleagues in the arts are hurting and are dogged by uncertainty.  I'll go half-way – say something, but keep it short.
While the news coverage inevitably bundles up our sector as 'the arts', the dynamics and economics of this sector vary greatly from one corner to another. Nature of the artform, levels of earned revenue, legal structure, operation within or independent from government, degree of support from the private sector and committed philanthropists – all of these have played out in the impacts on individual organisations. They have thrown into relief the concept of resilience, especially since earlier discussion around resilience and sustainability occurred against a fairly stable backdrop of funding and marketplace.  But what seemed fairly stable 6 or 12 months ago now seems anything but.  It is possible the industry will slowly re-emerge in similar form to its-pre-COVID state, minus some organisations who just cannot make it through, and some artists who leave the sector – though goodness knows where to in the middle of a recession.  It seems more likely that the distance between major and small-to-medium will be enhanced; that traditional patterns of consumption – sales, touring, exhibiting – will be re-shaped, and probably reduced; that there will be imaginative developments in digital presence and reach – but with few able to secure a strengthened financial position from this investment.  Against this, it is also possible that appreciation of the instrumental value of the arts will be significantly enhanced – arts in health and mental health, arts in education, arts in community cohesion, place-making and capacity-building. So – an economically weakened but more highly valued sector.
Through this period of great hardship we are witnessing the immense skill of our peers – the creative problem solving, people management, leadership, stewardship and humanity.  Perhaps through this age of recalibration there will be opportunity to hone new skills, develop new partnerships, and new ways of working.  But it is tough carving out the positives in such a straitened world – especially for those in Melbourne's and Victoria's lockdowns.  Our thoughts are with you.
In this changing environment the role of consultants like Positive Solutions, and other advisers, is to help with strategy and the research needed to inform it, with re-engineering, with affirmation of chosen paths where appropriate and – in some cases – to assist with alliances, mergers and wind-ups. The arts are not alone in facing these choices and opportunities.  But never has so much depended upon ingenuity, creative thinking and compassion.
With care,
David Fishel
Director, Positive Solutions
Banner Image: Julius Popp bit.fall 2001–06, Museum of Old and New Art (MONA), Hobart, Tasmania.
Isolation has become our new normal because of COVID-19, but psychologist Trisnasari Fraser argues that random acts of corona-kindness may be just what you need to build up your motivation again.
The beauty of 'paying it forward'. A wonderful article reflecting on the Arts inherent ability for community connectedness.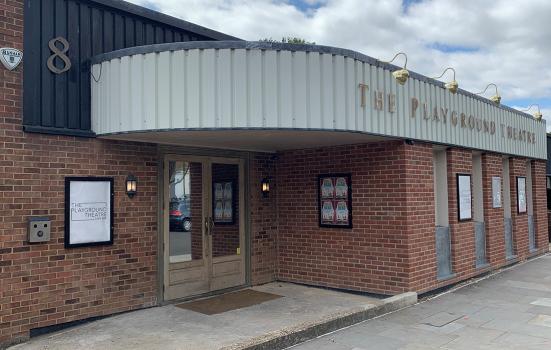 As Art and Culture continue to navigate the complexities of restricted business and imagine the future, does the Covid-19 pandemic provide us with an opportunity to consider who we are making theatre for, and how we can more deeply engage in a cohesive society? Arts Professional UK provide an insight into the manifesto of Anthony Briggs, AD of The Playground Theatre.
Could this approach be replicated here in Australia or elsewhere in the Asia-Pacific? What are your thoughts?
As the Arts sector re-imagines online content and delivery, the Adelaide Guitar Festival explores a suite of bespoke online videos to adapt their festival for a virtual landscape.
Positive Solutions is keen to understand what other digital formats the Arts Sector is employing to connect artists and audiences during restricted audience gatherings.
During this tumultuous time, continuing with the regular business of non-profit governance without distraction is difficult, as is setting aside time for thoughtful reflection. We hope that our periodic issue of Checklists and Factsheets will help to support the continuing need for good practice.
Our Board Meeting Checklist provides a list of questions to consider how purposeful board meetings are, and where improvements could be made. We hope it will be a useful resource for those needing to recallibrate the time and energy spent in and outside meetings.
Organisational Development and Future Directions
Positive Solutions has led or facilitated planning processes for organisations operating in the arts, Indigenous, health, education and environmental sectors. We encourage internal and external environmental awareness; stimulate creative and strategic thinking; and ensure the client has considered a range of options before setting its future course.
We have undertaken many organisational and management reviews, and provided advice on governance arrangements for arts and heritage organisations, as well as service providers and peak bodies in sports, health, welfare and education.
We have also undertaken management reviews and systems reviews, and helped to establish new administrative or personnel procedures.
Positive Solutions was engaged by the City of Sydney to determine appropriate management and governance models for the Dictionary of Sydney's long-term sustainability. Following research, review and engagement with stakeholders and staff, Positive Solutions provided a comprehensive list of organisational options and facilitated a combined board-staff workshop. After considering the recommendation, the organisation entered a new partnership with the State Library of New South Wales.
---
Developing a Case for Support
With our sector undergoing shifts in funding, resources and market environment – philanthropic support and government assistance will be essential for many organisations survival. Our Case for Support Template provides a structure for a philantropic prospectus, guiding on how to present a clear and strong case.
---
Feasibility, Governance and Philanthropy
Non-profit organisations that professionalise their fundraising activities and explore new income streams have a distinct competitive advantage. Within our governance reviews, our strategic planning support and our feasibility studies, Positive Solutions gives consideration to Fundraising Strategies, providing recommendations for governance support and the role board members can play in securing resources from the philanthropic and corporate sectors.
---
The Hong Kong Jockey Club Charities Trust (HKJCCT) is Hong Kong's largest community benefactor, operating as a not-for-profit organisation, with an internationally-recognised commitment to the development of Arts and Culture. To further develop this commitment, HKJCCT recognised the importance of developing a formal Grant-Making Strategy to more effectively shape the future of Arts and Culture in Hong Kong. Positive Solutions' thorough understanding of Hong Kong's political and cultural through our arts sector experience over 12 previous projects in Hong Kong, made us ideal for the project. In close consultation with HKJCCT, Positive Solutions conducted mapping and issues identification for HK Arts and Culture landscape through desk research, interviews, and focus group discussions. Our final report summarised findings in relation to the Hong Kong Cultural Sector, the Trust's previous outcomes, and international practice of relevance to the Grant-Making Strategy.
---
Amongst the hardship and loss experienced during this time, a rare benefit has been the time given to reflect on organisational goals and strategies – rarely afforded to a sector working so hard to make the most of limited resources. Many organisations may be finding it necessary to redevelop their strategic plans to accomplish their missions in a new landscape. Our Strategic Planning Checklist provides a starting point to encourage critical thinking around the organisation's planning process.
---
Strategic Planning
Positive Solutions has led strategic planning processes – including the development of vision and mission statements – for many cultural and non-profit organisations, ranging from small, community-focused organisations to national arts companies, such as Bangarra Dance Theatre, Opera Australia and the Australian Youth Orchestra.
Through interviews, workshops and facilitated planning sessions, we are able provide an objective oversight allowing the views of Directors, Board Members and Staff to be synthesised, resulting in a clear plan delivered in a report revised and workshopped with client input.
---
Queensland Conservatorium at Griffith University Strategic Planning
Positive Solutions assisted with the facilitation of strategic planning processes, and internal and external research, to inform preparation of a three-year strategic plan for the Conservatorium.